Peter Burian tests this affordable 12.3 MP DSLR with variable-angle LCD, D-Movie mode and sophisticated Nikon technology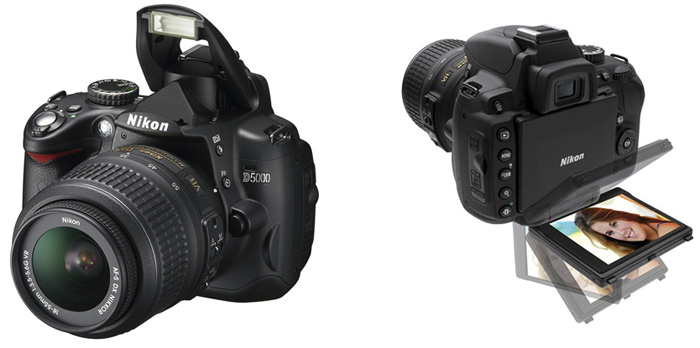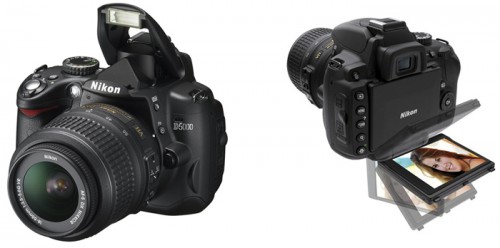 Nikon's most affordable enthusiast-level DSLR-the 12.3 megapixel D5000-is positioned between the D3000 and the D90 and offers the best of both worlds. The D5000 is as easy to use as the entry-level camera and provides even more Scene modes but it employs powerful technology and advanced features developed for the larger prosumer-grade model.That includes D-Movie mode in Live View, although the LCD screen is slightly smaller and provides lower resolution when compared to the D90.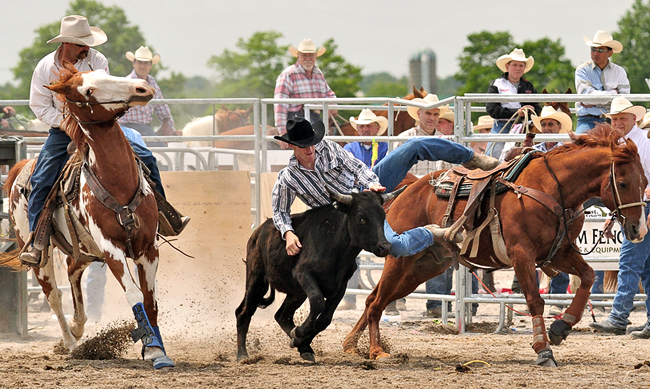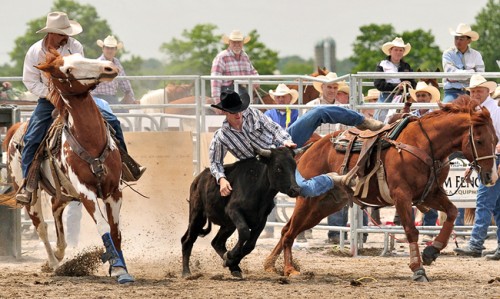 The D5000 (B&H D5000; Amazon Nikon D5000 12.3 MP DX Digital SLR Camera with 2.7-inch Vari-angle LCD (Body Only)) is almost as fast too, but it's missing a few high-end options (like depth of field preview). On the other hand, the D5000 benefits from some new amenities: the variable-angle LCD screen, a continuous AF option in Live View, a quiet shooting mode, plus upgrades. These include a more effective sensor cleaner with Air Flow, a full five levels in Active D-Lighting and some new retouch items in Playback mode for image modification.
Do note, however, that the D5000 (like the D40/D60/D3000) is not equipped with the built-in focus motor. While this newer camera does accept conventional AF lenses, autofocus is available only with the Silent Wave/AF-S series with their own very fast ultrasonic motors. (The D5000, like the D90, can also be used with manual focus Nikkor lenses but without any light metering.) Nikon has been expanding the AF-S line for great versatility; focal lengths are now available from 10mm to super-telephoto.




Design and Features
Larger than entry-level cameras, this DLSR feels solid thanks to a metal and plastic inner frame and a tough outer shell. The handgrip should fit all but very large hands. Nikon has provided the essential analog controls including a mode selector dial, a four-way controller and several buttons. Press the [i] button and a control panel of 13 items appears. You can then quickly make desired settings without hunting for the desired function. The D5000 employs D90-style menus plus D3000-style screens with two data displays: Classic, and the more intuitive Graphic interface.






This camera employs the superb 12.3 megapixel CMOS sensor, Multi-CAM1000 AF system with 3D Tracking Focus, and very fast EXPEED processor. The latter allows for shooting numerous JPEGs in a burst at 4 frames per second, with fast data recording. The D5000 also benefits from Nikon's Scene Recognition feature that combines data from the Matrix metering and AF systems for optimal exposures, white balance and autofocus performance. Active D-Lighting is also available and it's very versatile. Designed to improve contrast and shadow detail, this function can be set to auto for a modest increase in dynamic range or to higher and lower levels, as desired.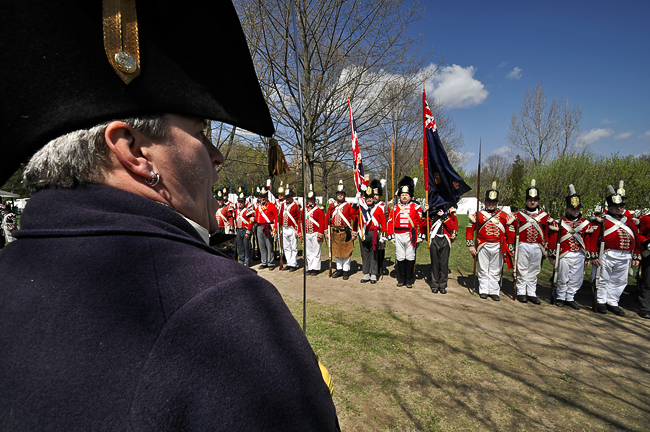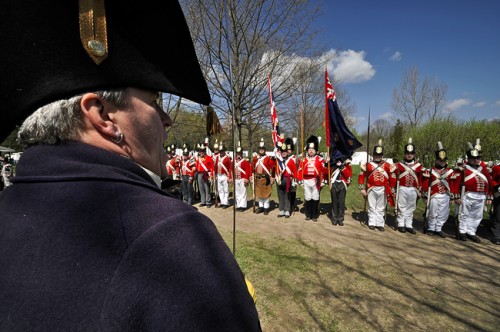 Intended to appeal to a wide range of DSLR buyers from beginner to experienced, the D5000 provides 19 automatic scene modes but also six picture styles (for producing entirely different effects), many overrides and menu items. Some items are complicated but the functions in the Quick Control panel are straightforward; some users will rarely need to access the full menu.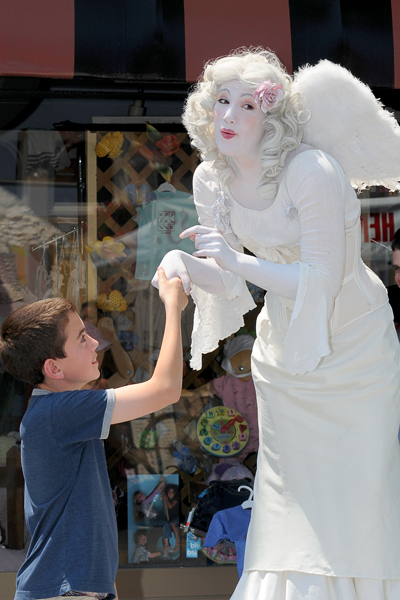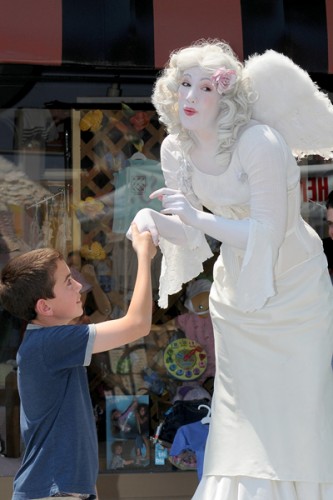 Nikon's Retouch feature (in Playback mode) provides many tools for modifying photos such as an automatic "fix" feature, filter simulations, red-eye removal and D-Lighting for more shadow detail. Some brand new Retouch options are also available: Soft Filter Effect, Color Outline (for a monochrome pencil sketch effect) and Perspective Control. The latter allows the user to minimize the linear distortion that was caused by tilting the camera upward to take a photo of a tall building. It's not simple to use but after some experimentation, the results can be highly acceptable.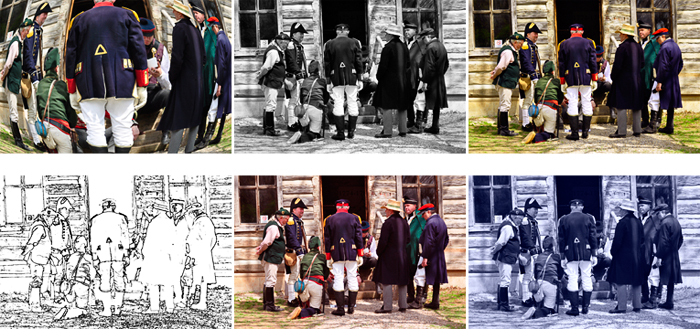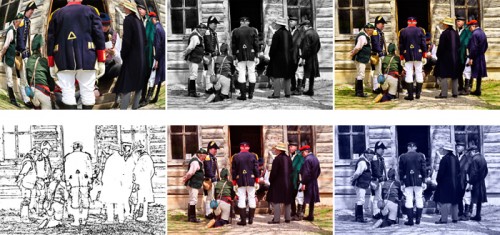 Evaluation: Except for the lack of depth of field preview, the D5000 should satisfy serious photographers with to its great versatility. This camera is great for all types of picture-taking including sports thanks to the very effective scene recognition and 3D tracking focus features. But its many automatic options make it just as attractive to first-time DSLR buyers. Both types should try the in-camera retouching options. Some are very useful for fixing technical problems while others provide really cool creative effects without a computer.


Live View and D-Movie
Press the [LV] button and the D5000 provides a real-time preview of the scene on the LCD screen. Autofocus is available in Live View, employing contrast-detection technology. Because the reflex mirror is locked into the up position, there's no preview blackout during autofocus operation. On the other hand, this type of autofocus is slow compared to the phase-detection AF available when the optical viewfinder is used.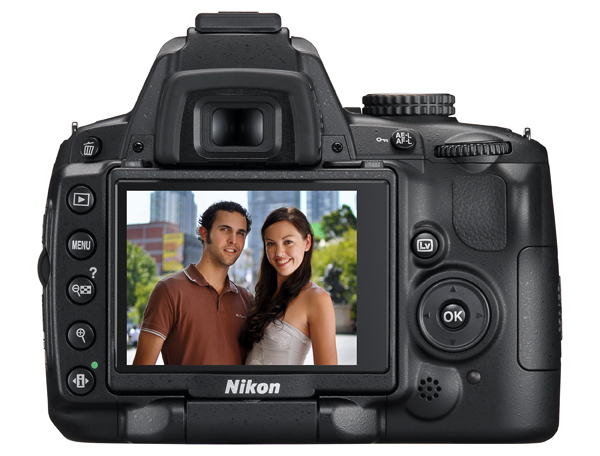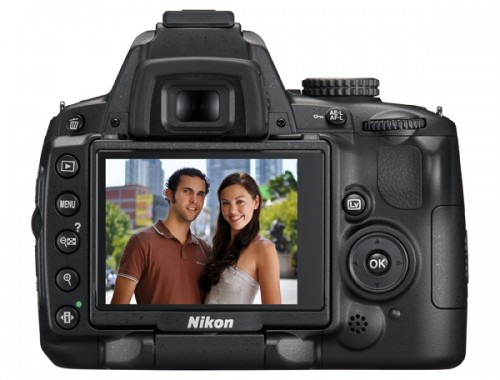 In Live View, the D5000 takes about two seconds to find focus, and longer in dark locations. The user can move the focusing point anywhere in the frame or select Face Detection AF; the latter optimizes focus and exposure for people in the scene. Continuous autofocus is also available in Live View; it's fast enough for tracking a person walking toward the camera. When shooting action subjects, however, switch to using the viewfinder in order to get conventional AF with its much faster tracking focus feature.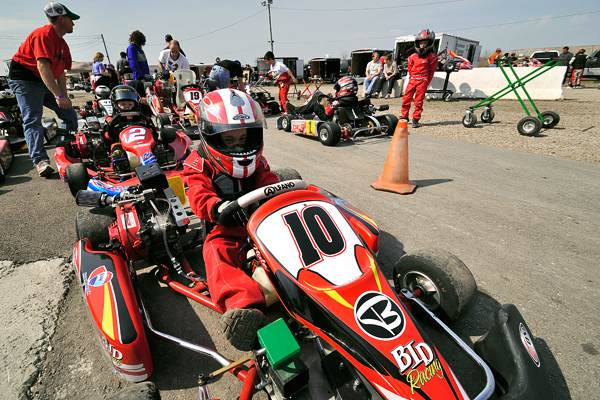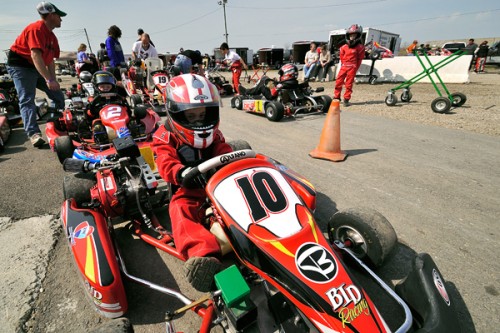 The 2.7-inch monitor is hinged at the bottom so it can be pulled out and tilted or rotated. While it's not quite as versatile as a fully articulated screen, the mechanism does allow for convenient viewing of the display when the camera is held at ground level or above the heads of a crowd, for example. The display is clear and crisp. A larger, ultra-high resolution LCD would have been better but would have made the D5000 larger/more expensive.
To activate the D-Movie mode, press the [OK] button while in Live View. You can now shoot true 16:9 format High Def 720p (720×1280 pixel) video clips at 24 fps for five minutes, with mono sound. Operation in D-Movie mode is automatic but you can pre-set picture controls (styles), white balance and exposure compensation. The camera then sets the aperture, shutter speed and ISO. Do note, however, that you have some control over the f/stop when shooting videos. Set a wide aperture from f/1.4 to f/8 before entering Live View and the camera will use that aperture in D-Movie mode. (However, the D5000 will not honour smaller apertures that were preset.)
Autofocus is not available while shooting a video so be sure to focus before recording. While shooting a clip, only manual focus can be used and that's not very convenient when the camera is held away from your body. Movies are saved in the familiar AVI (Motion JPEG) format, compatible with many affordable software programs: Windows Media Player, QuickTime, VirtualDub, i-Movie and others. You can also play back a clip on the camera's LCD monitor or connect the D5000 to an HD TV (with an optional HDMI cable) to show off your clear, crisp, colourful movies.
Evaluation: Live View works well but contrast-detection autofocus is slow, so this feature is best for landscapes, portraits and nature photos. The D-Movie mode is particularly suitable for events where manual focus adjustment is not often necessary. Video quality was much better than expected, as long as I did not pan too quickly. The audio was acceptable, particularly when a person was close to the camera and there was little background noise. A versatile camcorder (with an external stereo mic) is preferable, but D-Movie mode is a great addition to a still camera with the more typical photographic capabilities.
Speed and Quality
In conventional operation (with the optical viewfinder) the D5000 was fast in all aspects. Autofocus was quick and I could fire a very long series of JPEGs 4 fps; the camera was usually ready to take some more shots. In action photography with an AF-S telephoto lens, tracking focus with Dynamic AF Area (using 11 focus-detection points) worked well with fast moving competitors. During a go-kart race, roughly 70% of my shots were sharply focused. The 3D Color Matrix II metering system often produced pleasing exposures; in harsh lighting, a -0.3 EV exposure compensation setting-plus the auto level for Active D-Lighting-produced the best highlight and shadow detail.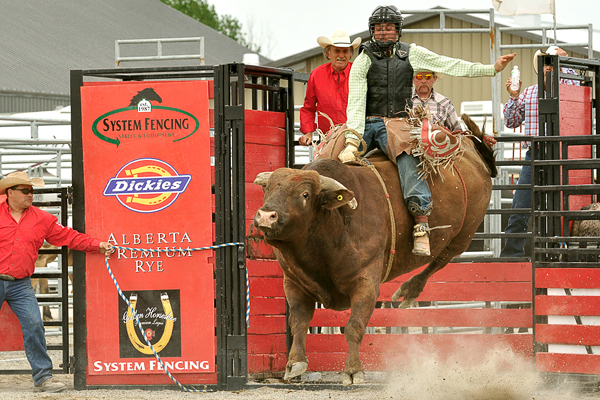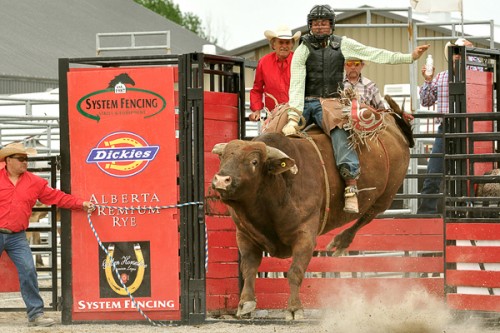 In the standard picture style, my photos were slightly soft, so I often set a +1 level for sharpening. Colors were quite bold. For an even more vibrant effect, I switched to Vivid mode; the other picture styles were more suitable for specific subject types such as portraits. The camera's automatic chromatic aberration correction provided fine quality even with affordable lenses, although ED zooms-like the AF-S 70-300mm ED-IF VR (from B&H; from Amazon Nikon 70-300mm f/4.5-5.6G ED IF AF-S VR Zoom Nikkor Lens for Nikon Digital SLR Cameras) model-produced even better results. My JPEGs made at ISO 100 to 400 are silky smooth and very clean; after a bit of sharpening, they made beautiful 13×19-inch inkjet prints. Much larger outputs would look great but I don't own a wide-format printer.
Digital noise is remarkably well controlled making the D5000 one of the best in its price range at high ISO levels. My best ISO 800 shots-especially from RAW captures-produced very nice 12×18-inch glossies. Avoid underexposure and even ISO 1600 will provide beautiful 8×10-inch prints while ISO 3200 will be fine for decent 5×7″ outputs.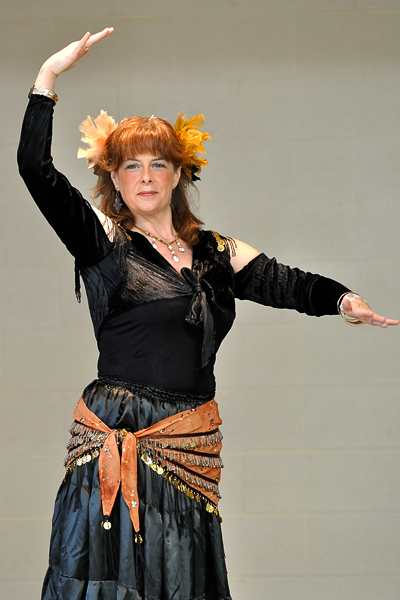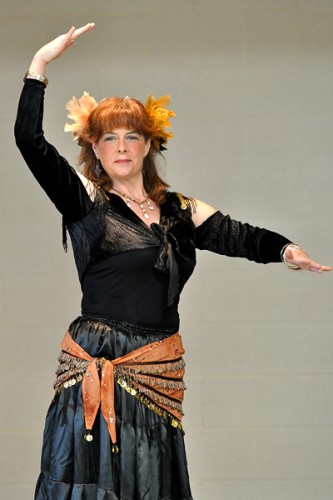 While the D5000 provides the best image quality at lower sensitivities, ISO 800 can produce excellent quality. Avoid underexposure and excessive sharpening; use the default level for noise reduction or shoot with RAW capture and set the optimal NR level later, in the RAW converter program. ©2009 Peter K. Burian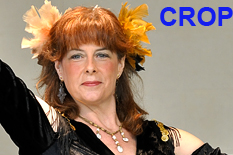 The Bottom Line
As easy to use as any entry-level DSLR in auto modes, the D5000 provides greater speed, reliability and versatility plus advanced amenities. In spite of the relatively affordable price, this Nikon model employs the latest technology and its tilt/swivel LCD monitor is a definite bonus. While it may be tempting to consider a DSLR with even higher resolution, this 12.3 MP Nikon employs larger pixels for excellent dynamic range and clean images at high ISO.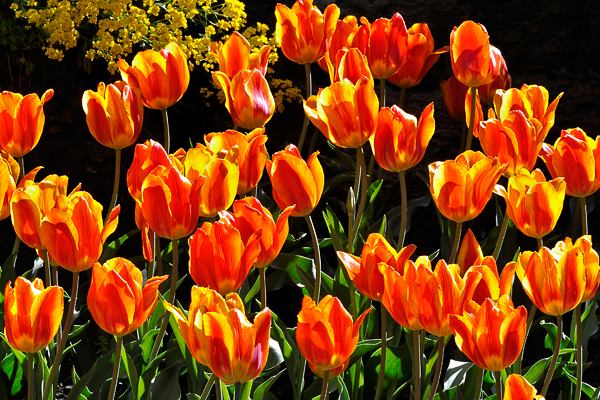 If you're an experienced photographer who does not need a variable-angle LCD, you may prefer the D90 (from B&H; from Amazon Nikon D90 12.3MP Digital SLR Camera (Body Only)) especially if you already own some AF lenses. Available for about $100 more than the D5000, that camera is equipped with a fixed ultra-high resolution 3″ screen, larger viewfinder, more analog controls and a 4.5 fps burst mode. On the other hand, the D5000 is just about the perfect DSLR for families that include both snap shooters and at least one serious photo enthusiast.
In the past, the 10.2 megapixel D80 (from Amazon Nikon D80 10.2MP Digital SLR Camera (Body only)) was Nikon's best-selling DSLR but the D5000 should be even more successful.
This more affordable 12.3 MP camera has even broader appeal because of its entirely new features, superb performance, variable-angle LCD, movie mode and great versatility. Overall this is a very fine camera that offers maximum value. It's up against some still competition, but in my estimation the D5000 is the most desirable current DSLR in the sub-$700 category.

For another great review: See Photography Blog's Nikon D5000 Review or the NikonLinks Nikon D5000 resource page.
For the full list of features and specifications: Visit Nikon D5000
For product reviews and current prices: Check out B&H Photo Nikon D5000; Amazon Nikon D5000 12.3 MP DX Digital SLR Camera with 2.7-inch Vari-angle LCD (Body Only))