Being a freelance photographer can be liberating because you're in charge of everything and answer only to yourself and your clients. However, this freedom does not always lead to productive days spent shooting.
Fortunately, there are ways to boost your productivity without hampering your creativity. Tweaking how you work and the structure of your day can make a big difference when it comes to how much you can accomplish.
In this article, we will discuss why productivity is important for freelance photographers. We will then consider four tips to boost your efficiency and explain why you should use each one. Let's get started!
Why Productivity Is Important for Freelance Photographers
As a freelance photographer, your to-do list likely seems never-ending. You're responsible for finding new clients and editing all the photos you take. You also need to find time to handle your bookkeeping and other administrative tasks.
All these small responsibilities can eat up your day, leaving you with less time to actually take pictures. However, they're also essential if you're going to continue to make money doing what you love.
This is why productivity tips can be so valuable to freelance photographers. Improving your efficiency leaves you with more time to do everything you need to.
The quality of your customer service may also improve when you become more productive. This can result in business growth as clients will be more likely to recommend you to friends. You may also find that you have more time to plan shoots or offer additional services.
4 Productivity Tips for Freelance Photographers
Overhauling the way you work can be a daunting prospect. However, small changes to your routine may be all you need to boost your productivity. Below, we've covered four techniques that may help you make better use of your time.
1. Create a Dedicated Workspace
Working from home brings to mind imagery of sitting on your couch in your pajamas while emailing with clients or editing photos. While a setup like this one might seem ideal, it leaves you open to distractions that may lower your productivity. This is why you should have a dedicated workspace.
In addition to minimizing distractions, dedicated workspaces can also help you stay organized. Ideally, yours will have everything you need to do your job. This may include a computer with your image files and editing software, as well as your photography equipment.
If you have a spare room, you can easily convert it into a workspace. However, you can set up a desk in a corner of your living room or bedroom if you're tight on space.
2. Automate Time-Consuming Tasks
To be more productive, you should consider streamlining certain tasks such as email marketing, bookings, and e-commerce. One of the best ways to do this is to automate these responsibilities. There are several tools and WordPress plugins that can take care of them for you.
To automate email marketing, you can look into autoresponders. These platforms send all your marketing emails for you at pre-determined intervals. They also offer templates for quick campaigns.
You can automate bookings by using a plugin such as Amelia:

It includes multiple payment options as well as the ability to enable clients to specify locations and two-way Google Calendar syncing.
As far as e-commerce goes, our Photocrati WordPress theme can help. It includes built-in e-commerce galleries and easy Paypal integration. Our automated print fulfillment service makes selling physical copies of your photos easy, too.
3. Jot Down Ideas in a Notebook
Ideas to improve your photography business or practices can strike at any time. When they come, it can be tempting to stop and consider them. However, they can also distract you from other important tasks.
To ensure you don't forget these ideas, you can keep a notebook on hand to jot them down. That way, you can revisit them later when you have the time. Alternatively, there are several note apps for desktop and mobile devices you could use instead.
4. Schedule Blog and Social Media Posts
Posting on a blog and your social media accounts are prime strategies to market your freelance photography services. However, creating content and publishing it at the most opportune times can break your focus and reduce your productivity.
Planning ahead and scheduling your posts can remedy this situation. You can then batch write articles and prepare content for Instagram or other platforms when it's convenient for you, and set posts to go live when your followers are most active.
For your blog posts, you can use the built-in scheduling functionality in WordPress. Scheduling social media posts is harder, as many tools for accomplishing this aren't compatible across networks.
As a freelance photographer, you likely focus most of your efforts on Instagram. Fortunately, there are multiple solutions for scheduling posts on this platform, such as Later: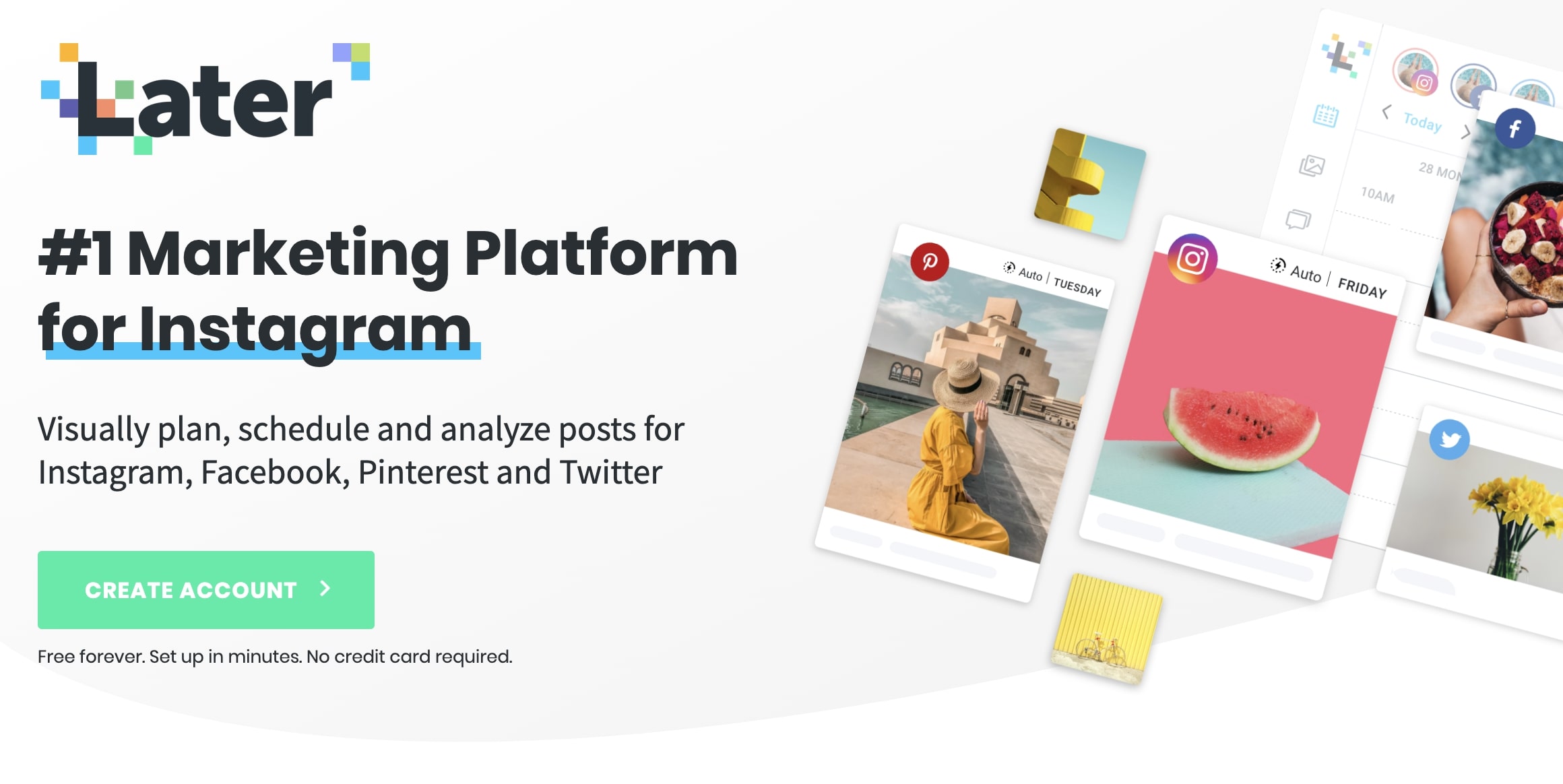 However, tools like CoSchedule may provide the most significant boost to your productivity: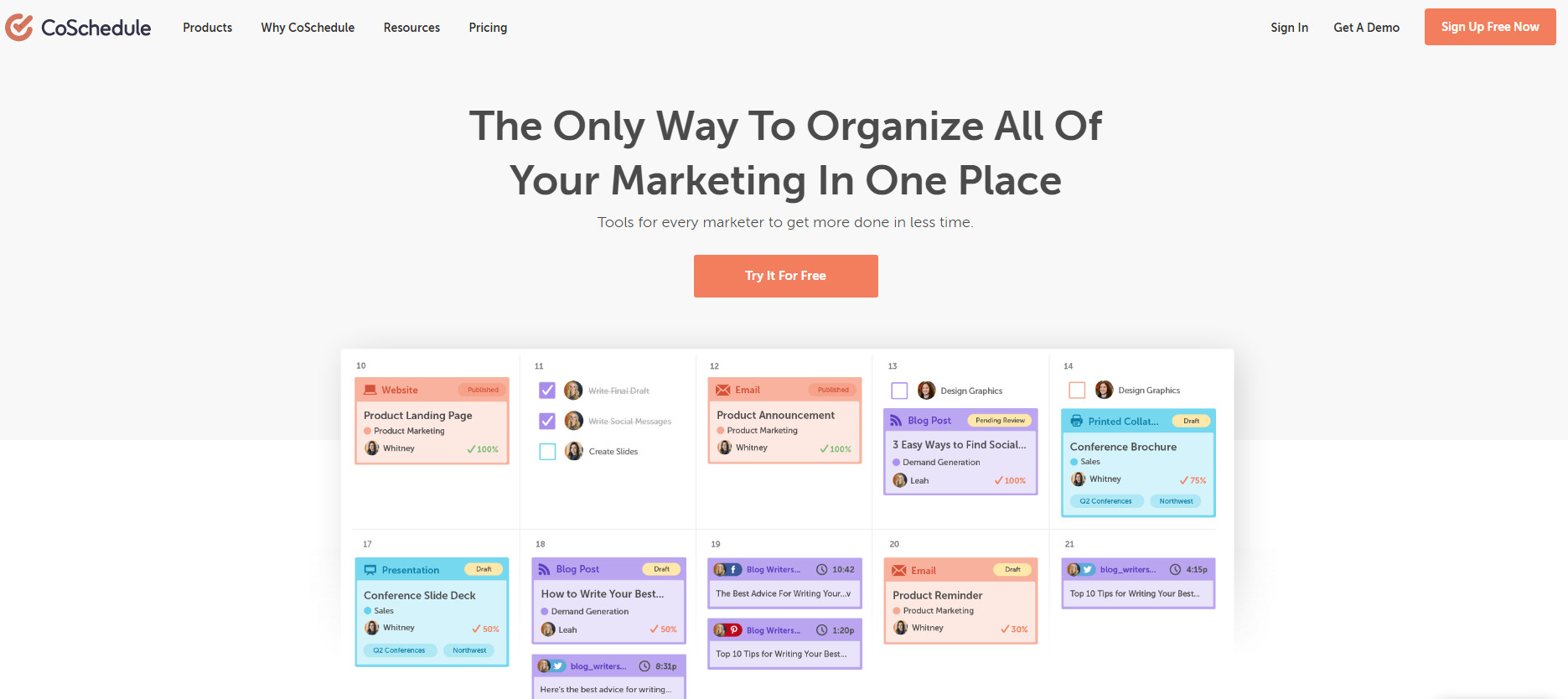 CoSchedule integrates with WordPress to schedule blog posts as well as content for several social media platforms, including Instagram. Automatic publishing from one tool makes managing your online presence faster and easier.
Conclusion
While there are many benefits to working as a freelance photographer, you may also find yourself with too little time to handle everything you need to accomplish. It's possible to get this time back by boosting your productivity.
In this post, we covered four productivity tips for freelance photographers:
Create a dedicated workspace.
Automate time-consuming tasks.
Jot down ideas in a notebook.
Schedule blog and social media posts.
Do you use any other productivity tips to get a handle on your freelance photography workflow? Share them with us in the comments section below!