What kind of photography do you do?
I am mostly  specialized in on-location portraiture as well as wedding and event photography. For my own pleasure I love to do travel and nature photography.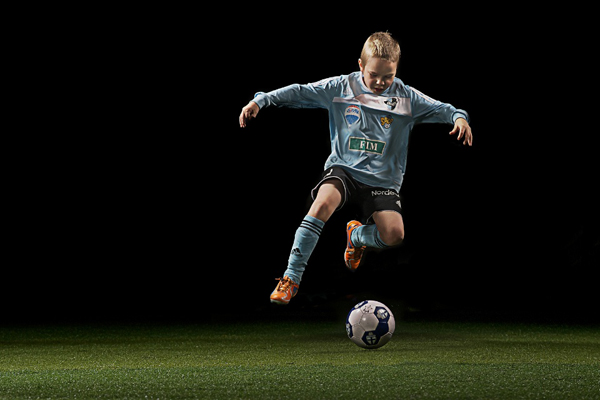 Story behind this image: Photography can be a very empowering experience. Shooting a lot of junior sports and other sports, I attempt to capture a moment that makes the subject proud. Here I shot a junior soccer player with a lighting that attempts to mimic stadium lighting. Rather than just shooting a formal portrait, I ask the players do their favorite ball trick in front of the camera.
How would you describe your style?
Light. Camera. Ambiance! Whether shooting with natural light or strobes, whether shooting wedding, portraits, landscapes, or anything else, it's all about the ambiance.  I always strive to capture the prevailing mood and tone, the atmosphere, the real moments, the ambiance… I shoot from the heart and aim to keep things simple in order to produce  emotional and powerful captures.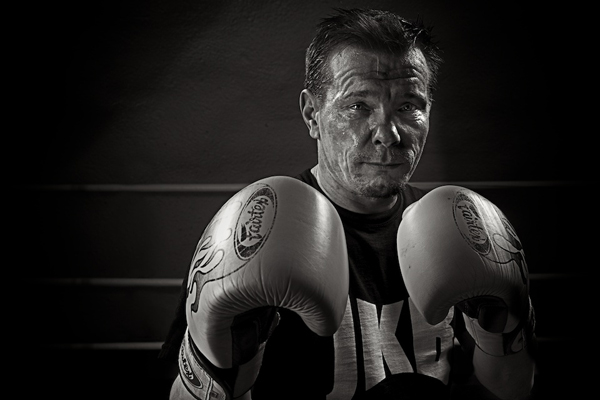 Story behind this image: I shot this kickboxer, along others, after a sweaty training session. "Why do shoot the portraits after the training, and not before", I was asked. It's very simple. After 90 min of exhaustment your body is tired and your mind is calm and empty. You are in a state where nothing can distract you. You are you. I think it shows in pictures, the calm, the awareness, the deep look. It all creates a unique ambiance. For the light I used three flashes.
What or who inspires you?
The person(s) in front of the camera. Every individual is unique, and this makes every shooting unique. They inspire me to give something back, something they'll love, something that makes them smile or sometimes cry, something they'll never forget. Similarly, animals, landscapes and basically any object that catches my curiosity, and it's interactions with light, inspire me, over and over again. There are also lots of photographers that inspire me, from old masters like Yousouf Karsh and Irving Penn to modern legends like Steve McCurry or Jill Greenberg.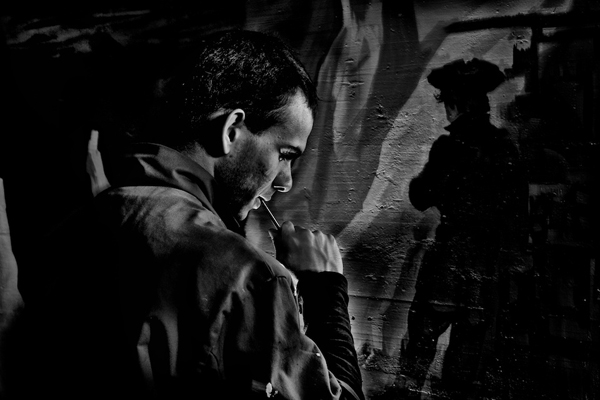 Story behind this image: I am fascinated by people that have a talent, and capturing the talent is something very challenging. Here I attempted to document the work of a young and very talented artist, who is working on a giant reproduction of Caspar David Friedrich's painting "Chalk Cliffs on Rügen".  The artist is very focused, thinking carefully what would be his next step. The picture is not constructed, it is a documentary photograph. I simply set up three flashes so that they would not be in the way.
What's your approach to post processing?
Good post processing prerequisites an image that is good to start with. That is, I always aim to get it right in camera (but of course, I will not always succeed to do so…:)). The extent to which I will do post processing depends mostly on the type of assignment. For wedding pictures I rarely go beyond basic edits. On the other extreme, I may do extensive processing. These are mostly related to local contrast enhancement and selective color shift and/or enhancement. I also do a lot of b&w. But even with substantial processing, the idea is always to enhance features that are already present in the original picture. If the image is not right in camera, it will most likely never be. For my workflow, I shoot raw and import is as a project into Aperture, where I will do the basic edits and eventually some more extensive processing. For certain procedures I will open the image as tiff in Photoshop.
What gear do you use?
I currently use Nikon D3s with Nikon optics (fixed focals and zooms as well). For additional light I use Quadra Rangers and  Nikon speedlights.
–
Links
Website: www.ambientscapes.com
Facebook: http://www.facebook.com/gilbertludwigphotography
Twitter: https://twitter.com/#!/GilbertLudwig