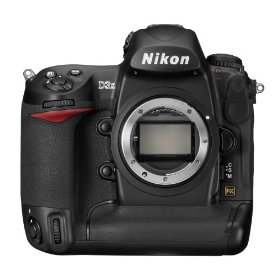 If you own or have used this camera, let us know what you think! Leave your comments and thoughts below.
Get information and user reviews for this camera from Amazon: Nikon D3x 24.5MP FX Digital SLR (Body Only)
Popular Photography (D3X versus Canon 1Ds Mark III)
Sure, it can't match the D3X's 24.5MP, but at 21.1MP, this Canon's no slouch. … If you mainly shoot in a studio environment, where you won't need high ISOs, the 1Ds Mark III might be the camera for you — especially if you already have an arsenal of Canon glass. If your shooting is more varied, the D3X's versatility may tip the scales in its favor. After all, the D3X nearly matches or beats the Canon in most areas of performance, including the burst rate of 5 fps. But if you're not already wedded to a brand, the Canon offers one big advantage: It costs about $1,500 less. READ MORE OF THIS REVIEW
Other Nikon D3X Reviews
Thom Hogan
As I've written above, the D3x is probably the best DSLR in terms of image quality so far. But the problem is value. There simply isn't US$5700 worth of value in a D3x over a D700. You're paying 3 cents for every 100 pixel gain. That's the highest premium I could find anywhere. The bottom line is that Nikon still needs to compete with a D700-type body in a high pixel count camera, which means that we'll have a D700x sometime within a year. If that camera is equal to or less than US$3999, then I would be able to recommend it if it has D3x levels of quality. Yes, it's nice, but it's probably just not worth it for most people. Wait for the less expensive crossover. READ MORE OF THIS REVIEW
Moose Peterson
Anyone who says the D3x is overpriced, well, they just doesn't get it. This is a camera that produces quality revealing at the very least $20k medium format backs that can't accept the biggest and grandest arsenal of lenses medium format can only dream of. Final images from the D3x"¦freakin stunning!!!! READ MORE OF THIS REVIEW
MORE FROM SLR GEEK D3X POST
The harshest review so far comes from Ken Rockwell
The D3X is a total no-big-deal. It's not even 24.4MP; Nikon is playing a psychological ploy by accidentally mis-stating the resolution as 24.5MP. Multiply 6,048 x 4,032 and see how many pixels you get. …The D3X is exactly the same as the Nikon D3, just with more pixels and much slower frame rates and ISOs. Want to know everything else? See my D3 review; I'll spare you from repeating everything again here.
Here is what some other sites have to say about the D3X
If you're familiar with Nikon's previous D3 digital SLR, you'll be right at home with the Nikon D3X. Short of the different model number, the D3X is basically identical to its sibling. D2x users will be comfortable too, as the Nikon D3 / D3X body design features only evolutionary design changes with which they'll quickly become familiar.
Looking the specifications (and price tag) of the Nikon D3X, it is obvious that Nikon are positioning it in line with the Canon EOS 1Ds Mark III. For a long time until recently, professionals who needed a high megapixels full frame camera were only given the choice of the 1Ds Mark III unless they went medium format.
With the Nikon D3 currently retailing for around £2,500 it's going to take a lot for professional photographers to dip into their pockets once more for the £5,500 D3X.
When the D3 was released, we were all pretty impressed by the features and performance and wondered what Nikon would come up with next to top it. Those of you that think this camera is replacing the D3, think again. It seems that what they've done is added to a range of cameras that's already getting a reputation as the superior name in image quality. … In today's economic climate, it could be tricky shifting the camera to the non-professional high end user at the price that they've placed it at. It's rare that the camera will get on the shelves at the same price, though. … I can't give marks on the camera until I review it in full. Stay tuned for the full written review.
In short, the Nikon D3x is a D3 with a 24.5-megapixel CMOS sensor at its heart. This effectively ups the number of pixels by a factor of two from the D3 and D700 to give Nikon a trio of full-frame FX cameras at the top of its range. As for the details about the sensor itself, Nikon was remaining tight-lipped at the launch, referring to it as a 'Nikon exclusive design'. Whether or not we can glean from this that Nikon has modified the Sony sensor found in the 24-megapixel A900 is largely conjecture, so all we can say is that the sensor has been 'specially developed' by Nikon and features a gap-less micro lens array and a unique low-pass filter with multi-layer coating that helps to minimise moiré.
NIKON PRESS RELEASE
NIKON UNVEILS A DIGITAL MASTERPIECE: THE D3X DIGITAL SLR
With Extreme 24.5-Megapixel Resolution, Processed Image Files Exceeding 138 MB, Five Frame-per-Second Burst Speed and Nikon Core Technologies, the D3X Ushers in a New Level of Image Quality
MELVILLE, N.Y. (Nov. 30, 2008) – Nikon Inc. today announced the D3X, an FX-format digital SLR featuring extreme 24.5-megapixel resolution and superb low-noise capabilities, which provides professional photographers with commercial-quality image performance in a familiar and extraordinarily versatile D-SLR form factor. In conjunction with the groundbreaking Nikon FX-format D3, the D3X tops off a collection of flagship level, rugged, professional caliber digital single lens reflex cameras engineered to excel in all types of professional photographic disciplines from photojournalism and sideline sports, to commercial in-studio applications.
The foundation of the enhanced performance of the D3X is its FX-format, 24.5-megapixel (6048 x 4032) CMOS sensor providing commercial, high fashion, fine art and landscape photographers with the extreme resolution, dynamic range, color depth, detail and sharpness that clients demand. Whether creating catalogs, magazine covers, billboards or gallery prints, the large 5.49-micron pixel size and high signal to noise ratio produces vibrant images with breathtaking image fidelity while reducing lost highlights and shadows, and ensuring smoother tone reproduction with minimized noise. With full resolution shooting speeds of up to five frames-per-second (fps), and 14-bit files, that when processed are approximately 138 MB, the D3X offers today's photographic artists an extreme level of performance and versatility ready for demanding assignments in the studio or on location.
The D3X is fully compatible with Nikon's Creative Lighting System (CLS) to give photographers a mobile lighting solution that is easy to manage. To further enhance mobility, the D3X is compatible with Nikon's GP-1 GPS receiver to gather information such as latitude, longitude, altitude and date of shooting. Photographers can easily shoot tethered via USB, or use the WT-4a wireless transmitter to send images wirelessly when speed and mobility are essential. D3X users will also enjoy the system strength of more than 50 genuine NIKKOR lenses that provide outstanding sharpness and high resolution across a broad range of focal lengths.
Price and Availability
"In 2007, the 12.1-megapixel FX-format D3 delivered groundbreaking digital SLR image quality, coupled with incomparable high ISO, low noise performance and high-speed handling. In doing so, the D3 broke photographic barriers, enabling photographers to work in ways never before possible," said Edward Fasano, general manager for Marketing, SLR Systems Products at Nikon Inc. "Now, the new 24.5-megapixel FX-format D3X D-SLR provides the extreme resolution and high dynamic range capabilities needed to meet the extraordinary needs of photographic disciplines such as high fashion, commercial advertising and fine art. The D3X delivers this remarkable capability while fitting seamlessly within the Nikon system, taking full advantage of Nikon's world-renowned collection of NIKKOR lenses and Speedlights."
The Nikon D3X will be available at Nikon Authorized Professional Dealers starting December 2008, and will be available for an estimated selling price of $7999.95.
Image Quality Takes Center Stage
To re-emphasize the importance of image quality above all else, the D3X delivers an incredible level of digital SLR performance to provide photographers with extremely high resolution, exceptional dynamic range, phenomenal total gradation and outstanding color reproduction. Image files can be recorded as TIFF, JPEG or NEF (RAW) formats in either 12- or 14-bit compressed or uncompressed formats, and recorded to UDMA compatible CompactFlashâ"¢ cards for optimum speed. Photographers can save image files directly to the dual card slots as overflow, backup, or as separate file formats to different cards. Building on the D3X's flexibility, users have the creative option to shoot in the 5:4 crop mode with 20.4-megapixel resolution, the ideal format for creating 8 x 10-inch portraits. While using DX-format lenses, faster continuous shooting of up to seven frames per second can be achieved at a resolution of 10.5 megapixels.
The exceptionally low noise of the D3X is essential to any professional commercial application, and it provides photographers with an ISO range of 100 to 1600, expandable to 50 (Lo-1) and 6400 (Hi-2). The ultra smooth tones and lack of grain at ISO 1600 as well as at low sensitivity settings result in smooth, natural skin tones and exacting detail that, before the D3X, required larger and far costlier studio-bound camera systems.
Advanced Technologies, Meticulously Executed
In a commercial setting or on location, imaging professionals need high performance in both speed and processing. The Nikon D3X can shoot at up to five fps at full resolution or up to seven fps in DX crop mode, allowing photographers to catch the split-second difference in a model's expression or capture all of the action in a sequence. Just like the D3, the D3X achieves a start-up time of a mere 0.12 seconds and a shutter release time lag of 0.04 seconds.
The D3X's speed, as well as high levels of performance, leverages Nikon core technologies including a newly enhanced EXPEEDâ"¢ Image Processing System, specially designed for the D3X to provide superior image quality, faster processing speeds and lower power consumption. This advanced system is able to achieve extremely precise color reproduction for a broad spectrum of hues, in addition to vivid saturation and smooth gradation. What's more, Nikon's advanced noise processing function is engineered to minimize noise at all sensitivities and operate seamlessly without interfering with other image color parameters.
The D3X also features Nikon's exclusive Scene Recognition System, which continuously analyzes information from the 1,005-pixel RGB light sensor, to further refine auto exposure, auto white balance and autofocus calculations. This results in flattering portraits and awe-inspiring landscapes that portray accurate color and fine details. Nikon's exclusive 3D Color Matrix Metering II helps ensure accurate exposures, even in the most challenging lighting conditions. Instantly evaluating each scene before capture, input data from the system's sensor is automatically referenced against an internal database of more than 30,000 images derived from actual photographs to calculate correct exposure values. Active D-Lighting, used in combination with 3D Matrix Metering II, helps to determines proper exposure, and creates realistic contrast while compensating for lost shadows and highlights. Prior to shooting, users can choose from Extra High, High, Normal, Low or Off settings, as well as an Auto mode.
Additionally, the D3X features Nikon's exclusive Multi-CAM 3500FX focus module, with 51 AF points, 15 cross type sensors and 36 horizontal sensors that easily track and lock onto moving subjects, delivering the same fast and accurate AF performance that helped make the D3 immediately successful. Users can select any of the AF points, making it easy to consistently attain accurate focus right on a subject's eyes, frame after frame. Additionally, three AF-area modes – Single point, Dynamic-area AF and Auto-area AF – are available to maximize the use of the 51 focus points by selecting the most suitable one to match subject conditions. AF is also available in one of two Live View modes optimized for the studio, including a phase detection handheld mode and a tripod mode. This feature allows the user to zoom in up to 27x on the LCD screen to ensure critical focus. While in Live View, the graphic indication of a virtual horizon is also available, making it easier than ever to confirm camera orientation.
To further ensure each photographer's ability to balance their personal style, Nikon's Picture Control System enables users to adjust their images to pre-set parameters such as Standard, Neutral, Vivid and Monochrome that apply tweaks to image sharpening, tone compensation, brightness, overall tone and saturation. Photographers have creative control over these image parameters with the use of up to nine available customizable presets.
Synchronizing Both Form and Function
Engineered for real-world functionality, the D3X retains a rugged shell with moisture, dust and shock resistance that has become a hallmark of flagship Nikon D-SLRs, while preserving the usability and ergonomics that allow the camera to remain an extension of the photographer's vision. Attention to detail goes so far as to include a self-diagnostic shutter system that is tested to exceed 300,000 cycles for maximum durability and longevity. The camera's body also maintains the resilient magnesium alloy construction and form factor of the D3, promoting consistent Nikon system synergy.
A bright and accurate viewfinder offers 100 percent coverage with 0.7x magnification. The body also houses Nikon's acclaimed 3.0-inch super density LCD screen, now relied upon by so many photographers. The high-resolution 920,000-dot screen is viewable at wide angles up to 170 degrees, and will allow photographers to quickly zoom in to confirm critical focus. Users can also output the video signal to an external display via HDMI to allow client viewing. Thanks to incredibly efficient internal circuitry, the D3X can capture up to 4400* shots per single charge of the camera's Lithium ion battery.
System Strength Withstands the Test of Time